What are carbon monoxide alarmss used for?
Czujniki tlenku węgla przeznaczone są do monitorowania pomieszczeń pod kątem obecności tylko i wyłącznie tlenku węgla (CO). Są jedynymi skutecznymi urządzeniami, dzięki którym można wykryć ten niebezpieczny gaz. Nie wykrywają żadnych innych gazów niż tlenek węgla. Nie mogą być stosowane jako, lub w zastępstwie czujek dymowych. Nie są przeznaczone do wykrywania dymu...
Should I install a carbon monoxide alarm?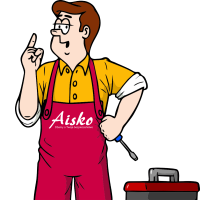 Jeżeli mieszkasz w domu jednorodzinnym, w którym jest zamontowane nawet tylko jedno urządzenie mogące być źródłem tlenku węgla, dla poprawy bezpieczeństwa swojego oraz wszystkich domowników, powinieneś zamontować czujniki (-i) tlenku węgla. Tlenek węgla powstaje w wyniku niepełnego spalania, takich paliw jak: gaz, olej, benzyna, nafta, propan, drewno, węgiel, olej...
What to look for when choosing a carbon monoxide sensor?
Czujniki tlenku węgla wyprodukowane po 30 grudnia 2020 r. przeznaczone do zamontowania w obiektach budowlanych lub ich częściach (m.in. w budynkach i pomieszczeniach mieszkalnych) muszą spełniać wymagania określone w polskiej normie PN-EN 50291-1:2018 oraz być oznaczone znakiem budowlanym B przed wprowadzeniem do obrotu lub udostępnieniem na rynku krajowym...
Installation of carbon monoxide alarms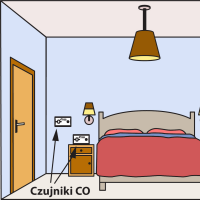 Czujnik tlenku węgla powinien być zamontowany w każdym pomieszczeniu, w którym znajdują się urządzenia emitujące spaliny np. kuchenki palnikowe, biokominki, piecyki naftowe, kominki gazowe i na paliwo stałe, przepływowe ogrzewacze wody użytkowej, piece gazowe, olejowe, piece na paliwo stałe itp. Dodatkowe czujniki powinny być zainstalowane w pomieszczeniach w których...
Procedure in case of activation of the carbon monoxide alarm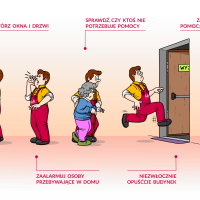 Przede wszystkim należy zachować spokój. W większość przypadków aktywacja sygnalizacji czujnika nie jest związana z bezpośrednim zagrożeniem zdrowia i życia, co nie oznacza że można ją lekceważyć. Czułość alarmów spełniających wymagania normy PN-EN50291-1:2018 jest tak dobrana, aby pozwalały użytkownikowi na podjęcie odpowiednich działań, na długo zanim wystąpią...
Use, maintenance and operation of the carbon monoxide alarm
Czujnik tlenku węgla należy sprawdzać raz w tygodniu przez naciśnięcie przycisku TEST. Dodatkowo raz w roku zalecane jest sprawdzenie czujnika dostępnym na rynku gazem testowym do czujników czadu. Nieregularny, bardzo cichy sygnał dźwiękowy może oznaczać, że czujnik jest uszkodzony lub ma rozładowane baterie. Jeżeli wymiana baterii nie rozwiąże problemu należy skontaktować się z serwisem producenta...
Arrangement of fire protection at home
Jak, ile i gdzie rozmieścić zabezpieczenia przeciwpożarowe w domu, dowiesz się z naszej interaktywnego planu. Gdzie powiesić czujkę dymu, gdzie umieścić czujnik tlenku węgla? Czy potrzebuję czujnika gazu, a może przydałaby się gaśnica. Jakie zabezpieczenia umieścić w kuchni, jakie w salonie, jakie w garażu, jak zabezpieczyć piwnicę z kotłem gazowym? Wybierz punkt na planie a dowiesz się szczegółów...